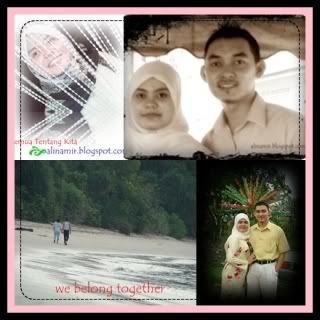 Ok... to start off today's entry aku yg sgt membosankan ini.. ialah mengenai previous entry pasal org suka tanya bila aku nih nak dpt anak.... hari nih dgn tak semena-mena nye aku di tanya soalan yg sama...
it started off like this, ari nih my S.I.L yg duk sebelah umah aku nih, M.I.L dia dtg dr tganu, small groups, because s.i.l aku nih tak balik kerja lg.. n aku plak tgh pegang anak s.i.l nih a.k.a cucu they'all aku pun cepat2 la panggil mak mertua aku... bg tahu yg the besan dah sampai...
aku pun dgn murah hatinya offer diri untuk bukak pintu rumah my s.i.l and ajak the family masuk..
so, they actually come to see the new born yg aku pegang tuh, a.k.a umar rafiq.. aku pun pass the baby to the grandma,.. and pergi la dapur kak ipaq aku tuh siapkan cawan , sbb mak mertua aku dah siapkan air kat depan,..then my s.i.l ni balik la.. sampai kat rumah.. n aku pun bawak cawan nak ajak la tamu s.i.l tuh minum .. dgn tak semena aku ditanya..
"org dah ade nih, kita bila lagi weii??" dgn loghat ganu nye.. aku pun ape lagi jawab dgn standard
"sy ni tak tahu la bila lagi......." dan dengan cepat dan pantas kaki aku nih pandai jer laju... carik selipar balik umah... dlm hati dah berkata-kata... kalau ikut mulut aku yg baik nih.. dan hati aku yg sakit nih... mahu aje aku jawab.......
"Tuhan tak bagi tahu pulak bila nak bagi saya anak, kalau saya tahu... boleh la saya bagi jawapan tuh utk makcik, .. Kenapa?? kalau saya susah, anak makcik nak tolong saya belikan susu utk anak sy ker??"
Tapi aku tak jawab mcm tuh.. sbb aku rasa xperlu jer aku nak ckp ape-ape dkt mereka neh.... and the fact that aku takde anak.. kalau aku berckp ngan mak cik tuh pun,.. bukannya tetiba jer aku dapat anak ... kan???
kadang-kadang org nih igt dia masih ade lagi 2 anak pompuan belom kawin lg... ckp kat org.. nti anak korang kawin .. aku bdoa dpt anak kembar baru tahu! Baru korang tahu jadi ke tidak mulut aku nih?!!

(I swear to god I will hope you when it reaches my limit, and most of the time memang ade yang jadik.. and I have a living proof to show it to u!!!)
Ingat aku takde perasaan ker? aku nih dah puas bekerja keras, habiskan wang ringgit berusaha untuk dapatkan anak.. tapi malangnya... hal-perihal nak dapat anak ni bukan kuasa kita...

KUASA ALLAH! So I am living the matter to..

Him
The All Knowing..