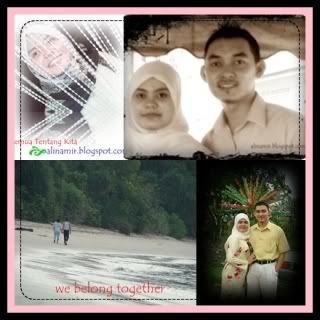 ok berakhir lah sudah... kenduri kendara raiza n syukor.. alhamdulilah... akhirnya aku lena tidoq.... setelah beberapa hari tuh tak bleh tidoq kan?! semuanya berjalan lancar.. dan hopefully semua org happy dgn ending....
Ucapan beribu2 terima kasih kepada semua yang hadir... dan semua org yang berkerja di belakang tabir.. yang telah menjayakan acaran kenduri syukor di ttdi...Sekalung tahniah dan penghargaan yang tinggi kepada caterers (en.nazif), mc(richie), gamelan(fairuz), pelamin (kak liza) andalah the best back support!
And sebelum terlupa ini ingatan utk sesiapa yg nak kawin atau buat kerja kawin and nak cari pa syste,.. jangan gunakan pa system daripada IMPIAN SYSTEM, a.k.a SAYED, yang advertise dkt dlm majalah persona pengantin tuh... kerja hampeh, pasang pa system lepas tuh main tinggal.. service- ZERO! kerja ko tuh untuk tunggu pa system ko tuh bukan untuk pasang dan tinggal dan kerana itulah aku takkan bayar balance yg tertunggak sbb aku mmg tak puas hati dgn service ko! KO INGAT ORG KAT SITU SEMUA RETI NAK GUNA PA SYSTEM KO TUH?!! DAN TOLONG LA JADIK LA SEORANG YANG PROFESSIONAL, KALAU JANJI DGN ORG PUKUL 12, PUKUL 12 LA KO TERPACAK DEKAT DEWAN TUH. BUKAN PUKUL 1.30 BARU KO NAK TUNJUK MUKA SAMBIL MERUNGUT SAMBIL PASANG PA SYSTEM YER? PATUTLAH BEKAS MAJIKAN KO PUN TAK TAHAN DGN KO?! AKU PUN TAK PAHAM LA DGN ORG MCM KO NIH BUAT BISNES... MINTAK AMPON LA...
Aku mmg hangin ok dgn mamat nih,... kalau ko buat kerja betul2 takde org nak slack bayar... sbb ko jugak aku dah kena bambu dgn family pengantin.. sbb tak boleh buat performance... ko pikir time tidur ko jerk yer? yg kami2 kerja sampai pukul 4-5 pagi nih ade ko kira?
SO KORANG TUH IGT JGN SAMPAI KENA MCM AKU YERK? nasib baiklah... back bone support aku nih kuat klu tak.. dah tentu.. tak jadik ape?!
ok.. see ya!
cheers!