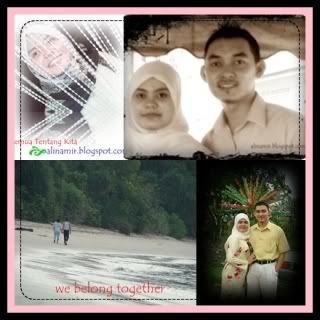 Yesterday,
I was head over heels of you, but we were going on a seperate ways, you were you, and I was me..
I was drowned to get commited to you.. and your commitment in return ..
I never regretted being with you, I loved every moment we share.. but we were two different people..
Our worlds apart, I was again being me.. and you are being you...
You swore that you'll get your act together and that you'll find me when you are what you thought I would want you to be..
I thought you were joking and that you are a tip of an iceberg.. I knew you wouldn't changed... somehow deep inside of you.. who would have guess...
Later, when I was being me, being where I was, met your acquantaince ... you're enganged.. I am so happy for you,... I knew you've moved on... I am glad you did.
And So have I,
I met a wonderful guys who made me laugh... who shared my tears...
who picks me up when I was down.. The guy I am married to.. are a wonderful guy...
I am so blessed...
Inside I prayed for your happiness.. I never thought it was all a lie...
You did search for me.. but now you know that I am married... and you are such in pain.. I'm sorry I cost your tears but the reason why... I never picked you in the 1st place...
you dictate me.., I never really know how..

you gave me a goosebumps... i am never ready for a proposal..
And for that... I am sorry for all the trouble I cost you, because now... I am happy where I am... although I know... its not a bed of roses... there's thorns and pain.... all the way...
And I'm taking that chance....
And I hope you find your own happiness...